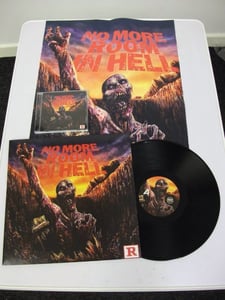 £

8.99 - On Sale
No More Room In Hell 12" Vinyl WITH A2 POSTER
This is a debut album featuring 7 tracks of groove infested, horror worshipping death metal.
Featuring:
Mark Gleed - Vocals (Amputated).
Anil Carrier - Drums & Guitars (Throes / Binah / Towers of Flesh /).
With Guest appearances by:
Dan Benton (Kataleptic).
Sam Read (Foetal Juice).
Jonny Pettersson (Syn:Drom / Wombbath / Ashcloud).
Ross Gardiner (Amputated).
Tom Hinksman (Hellsworn).